Sorcery of Thorns. Margaret Rogerson. Young adult/Fantasy. 2019. 456 pages. 5 stars.
It was always wise to be polite to books, whether or not they could hear you.
All sorcerers are evil. Elisabeth has known that as long as she has known anything. Raised as a foundling in one of Austermeer's Great Libraries, Elisabeth has grown up among the tools of sorcery—magical grimoires that whisper on shelves and rattle beneath iron chains. If provoked, they transform into grotesque monsters of ink and leather. She hopes to become a warden, charged with protecting the kingdom from their power.
Then an act of sabotage releases the library's most dangerous grimoire. Elisabeth's desperate intervention implicates her in the crime, and she is torn from her home to face justice in the capital. With no one to turn to but her sworn enemy, the sorcerer Nathaniel Thorn, and his mysterious demonic servant, she finds herself entangled in a centuries-old conspiracy. Not only could the Great Libraries go up in flames, but the world along with them.
As her alliance with Nathaniel grows stronger, Elisabeth starts to question everything she's been taught—about sorcerers, about the libraries she loves, even about herself. For Elisabeth has a power she has never guessed, and a future she could never have imagined.
When terrible things have happened to you, sometimes the promise of something good can be just as frightening.
When there's a book about books that come to life with a main character that's a big book worm, you know that readers are going to flock to it the moment it gets published. Unsurprisingly, I was part of that crowd. We follow the story of Elisabeth, an apprentice of the library, who believes that all sorcerers are evil and must be kept away from books. Because these books are not normal, there are grimoires, demons, and monsters inside of them. As an amazing plot, Elisabeth is blamed for the death of the Director and the escape of a dangerous monster and she must work with a sorcerer and his demon to try and stop the saboteur from dooming the entire world.
The real drivers of this story were the characters. Granted, the world building was interesting and the books in them are an entirely different set up that was explained nicely by Rogerson without getting me lost in the jargon. But the characters–Elisabeth, Nathaniel, Silas, and even Katrien–they made this already amazing plot even more amazing. I loved Elisabeth as a character who is navigating a world that was contrary to everything she has been taught. I felt the grief she was feeling, as well as the joy, the thrill, and the shock as the story progressed. Her best friend, Katrien, had a fiery personality that supplemented Elisabeth's steady flame. Their interactions reminded me of how real friends act around each other. It wasn't awkward at all. It was lovely, and I wish I had my friends around me every time I read more scenes with them.
Nathaniel was a witty, charismatic, and very un-broody love interest! I've read so many fantasy love interests like Kaz, Warner, and Rhysand who were always closed off and mysterious but Nathaniel was funny from the very beginning! I knew he had secrets but these secrets did not make the entirety of his character. I was expecting a slow burn of a romance, it unfolded in such a natural way that I was pleasantly surprised. It's been a while since I read a straightforward romance in a fantasy book and this was a breath of fresh air; I want more of it.
The real saviour of the story, however, goes to Silas. The demon servant of Nathaniel and believed to be cruel, Silas won me over with his interest in fashion and brutal honesty I can't help but admire. His complicated link to Nathaniel was a subplot that was perfectly executed and the friendship he formed with Elisabeth had me tearing up at some point. These characters were forming friendships and relationships in such an ordinary way even though they were plunged into a magical storyline. This kind of foundation made the ending all the more of an emotional experience for me.
All in all, I devoured this book in like a day. As a standalone, I think it's perfect (but I wouldn't complain if this turned into a series!) 5 gorgeous stars for Sorcery of Thorns. Easily one of the best reads I've had for 2019.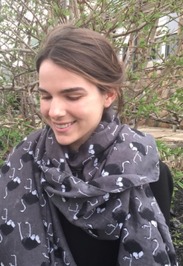 Margaret writes fantasy for young adult readers. She lives near Cincinnati, Ohio, and when she's not reading or writing she enjoys drawing, watching documentaries, making pudding, gaming, and exploring the outdoors in search of toads and mushrooms.