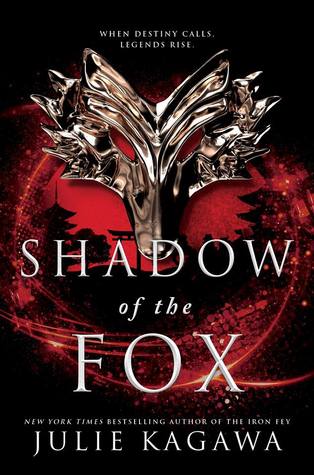 Shadow of the Fox. Julie Kagawa. Mythology/Young adult/Fantasy. 2018. 384 pages. 4 stars.
The Dragon is rising, and another age comes to an end.
I received an Advanced Reader's Copy in exchange for an honest review.
One thousand years ago, the great Kami Dragon was summoned to grant a single terrible wish—and the land of Iwagoto was plunged into an age of darkness and chaos.
Now, for whoever holds the Scroll of a Thousand Prayers, a new wish will be granted. A new age is about to dawn.
Raised by monks in the isolated Silent Winds temple, Yumeko has trained all her life to hide her yokai nature. Half kitsune, half human, her skill with illusion is matched only by her penchant for mischief. Until the day her home is burned to the ground, her adoptive family is brutally slain and she is forced to flee for her life with the temple's greatest treasure—one part of the ancient scroll.
There are many who would claim the dragon's wish for their own. Kage Tatsumi, a mysterious samurai of the Shadow Clan, is one such hunter, under orders to retrieve the scroll…at any cost. Fate brings Kage and Yumeko together. With a promise to lead him to the scroll, an uneasy alliance is formed, offering Yumeko her best hope for survival. But he seeks what she has hidden away, and her deception could ultimately tear them both apart.
With an army of demons at her heels and the unlikeliest of allies at her side, Yumeko's secrets are more than a matter of life or death. They are the key to the fate of the world itself.
"What if I'm happy as a human and a fox?"
She sniffed. "Then you are a fool," she stated bluntly. "And you are fighting a losing battle."
When I heard of the premise of this book, I was really excited because I love mythology! I'm not well-versed in Japanese mythology, so going in this book was educational for me as it was fun. We follow the story of Yumeko and Tatsumi accompanied by other characters who are in no way overshadowed by the two!
Yumeko is a kitsune with childlike behavior. It's amazing how Julie Kagawa could capture the essence of a fox into a character because Yumeko played human and fox simultaneously without raising any doubts on my part. The mastery of her characterization is commendable and I'd like to take a moment to praise Julie Kagawa for doing that. On the opposite end of the character spectrum, is Tatsumi. If I didn't know any better, I would say that Tatsumi would have been better off written as a robot. He was unemotional, highly logical, and seemed like he didn't know how to have fun. His loyalty to his clan and mission is unquestionable. Duty above all, like a true samurai–and Kage demonslayer. His honor comes first, everything else follows. Both of their character backgrounds really support their characterization. It was spot on.
They pick up a few characters along the way during their quest (which is why The Lunar Chronicles kept ringing at the back of my head while I was reading this book) like Okame and Daisuke. Daisuke is a morally ambiguous ronin. He provides a lot of the comic relief because he strays from what we stereotype as ronin. (A rōnin was a samurai without a lord or master during the feudal period of Japan. A samurai became masterless from the death or fall of his master, or after the loss of his master's favor or privilege.) Okame is loud, he is obnoxious, he is transparent, and he is honestly the most lovable annoying character I have encountered. Daisuke, on the other hand, was the most surprising out of them all. I did not expect him to play a part of the story, but I'm thankful that he made the somewhat unofficial gang of the series!
The story is very adventurous, covering a lot of places within its span of ~400 pages. Villages, capitals, forests, temples, you name it. The writing style makes it easy to visualize the scene. I appreciate that because that's what I love about Asian narratives–the scenery, the stories behind them. Julie Kagawa also incorporates a lot of Japanese legends, culture, and myths into the story without becoming overbearing. It educates you but also fills you with wonder. It makes you appreciate Asian stories more.
"What do sickle weasels like, Tatsumi-san?"
"What?"
"Well, if we run into any more sickle weasels, I was thinking we could give them something to make them not attack us." She cocked her head at me. "You know a lot about demons and yokai. What do they like? Do they like fried tofu? I'm very fond of fried tofu."
"I don't know what they like."
She sighed. "Maybe I'll try tossing them a rice ball."
As you can see, Shadow of the Fox isn't short of some humor as well. It's constantly filled with light-hearted conversations that border humorous. Sometimes the humor can come off as trying to hard and may miss the mark, but I still appreciate how this story is well endowed with mythology but still manages to be funny and amusing.
The book ends just as we feel like the story is beginning. I ate this book up and finished it within 48 hours. You can imagine my disappointment when I realized I had finished the book when I was just beginning to want more. Nonetheless, I loved reading this book and will be waiting on its sequel. 4 stars!
Shadow of the Fox is set to be released on October 2, 2018. You can pre-order using the buy links above!
Author. Reader. Gamer.
Julie Kagawa, the New York Times bestselling author of the Iron Fey and Blood of Eden series was born in Sacramento, California. But nothing exciting really happened to her there. So, at the age of nine she and her family moved to Hawaii, which she soon discovered was inhabited by large carnivorous insects, colonies of house geckos, and frequent hurricanes. She spent much of her time in the ocean, when she wasn't getting chased out of it by reef sharks, jellyfish, and the odd eel.
When not swimming for her life, Julie immersed herself in books, often to the chagrin of her schoolteachers, who would find she hid novels behind her Math textbooks during class. Her love of reading led her to pen some very dark and gruesome stories, complete with colored illustrations, to shock her hapless teachers. The gory tales faded with time (okay, at least the illustrations did), but the passion for writing remained, long after she graduated and was supposed to get a
real job.
To pay the rent, Julie worked in different bookstores over the years, but discovered the managers frowned upon her reading the books she was supposed to be shelving. So she turned to her other passion: training animals. She worked as a professional dog trainer for several years, dodging Chihuahua bites and overly enthusiastic Labradors, until her first book sold and she stopped training to write full time.
Julie now lives in Louisville, Kentucky, where the frequency of shark attacks are at an all time low. She lives with her husband, an obnoxious cat, an Australian Shepherd who is too smart for his own good, and a hyper-active Papillion.