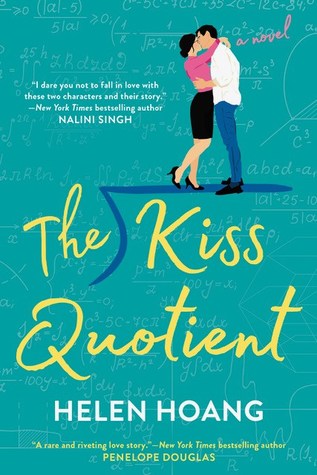 The Kiss Quotient. Helen Hoang. Romance/Contemporary/Adult. 2018. 336 pages. 4 stars.
People don't like honest. Except for when you're saying good things.
A heartwarming and refreshing debut novel that proves one thing: there's not enough data in the world to predict what will make your heart tick.
Stella Lane thinks math is the only thing that unites the universe. She comes up with algorithms to predict customer purchases–a job that has given her more money than she knows what to do with, and way less experience in the dating department than the average thirty-year-old.
It doesn't help that Stella has Asperger's and French kissing reminds her of a shark getting its teeth cleaned by pilot fish. Her conclusion: she needs lots of practice–with a professional. Which is why she hires escort Michael Phan. The Vietnamese and Swedish stunner can't afford to turn down Stella's offer, and agrees to help her check off all the boxes on her lesson plan–from foreplay to more-than-missionary position…
Before long, Stella not only learns to appreciate his kisses, but to crave all the other things he's making her feel. Soon, their no-nonsense partnership starts making a strange kind of sense. And the pattern that emerges will convince Stella that love is the best kind of logic…
She was herself. She was enough. She could be anything. She could make herself into anything. She could prove everyone wrong.
This is a debut novel that I had the pleasure of reading! For a debut, it was wonderfully written with amazing and complex characters. It was all about Stella wanting to improve her romantic interaction with men due to her Asperger's. Honestly, I was quite nervous reading it because I have never read a book like this before. Surprisingly, I loved it!
We have Michael Larsen and Stella Lane, two main characters who have their own issues and problems. We see them tackle these problems individually but grow together as a (fake) couple since it was a compromise to their original arrangement. Instead of Michael teaching Stella on how to be a good partner in bed, they agreed that Michael would teach her on how to be a good partner in general. These kinds of plots only have one direction to go to–love.
As much as I liked the book, I didn't really like the whole insta-love feel of it. It wasn't convincing to me that they would fall for each other that fast. For a book that is full of fluff and growth, I have to admit I got bored a few times.
However, there were many moments that really won me over because this book has a lot of funny quotes!
If he stopped buying boxers now, it meant he loved her back.
It's way funnier if you understand the context, but to avoid spoilers, I'm going to keep you guessing! This is one of my other favorite quotes:
Money is better than men. I want a Hermès bag.
Another thing I loved about this book was the Asian background! Michael is Vietnamese, and we see a lot of his family in the chapters. I love Asian families. Since I myself am Asian, I absolutely loved the quote above because it really is such an Asian thing to say!
Overall, I had a great time reading this book and I loved how it tackled autism in a positive light. It was able to shed light on how it affects people's behavior without getting awkward about it. 4 stars!