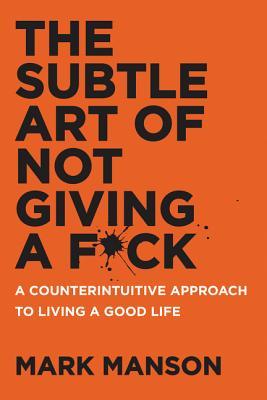 The Subtle Art of Not Giving a F*ck: A Counterintuitive Approach to Living a Good Life. Mark Manson. Nonfiction/Self-help. 2016. 224 pages. 4.5 stars.
Don't just sit there. Do something. The answers will follow.
In this generation-defining self-help guide, a superstar blogger cuts through the crap to show us how to stop trying to be "positive" all the time so that we can truly become better, happier people.
For decades, we've been told that positive thinking is the key to a happy, rich life. "F**k positivity," Mark Manson says. "Let's be honest, shit is f**ked and we have to live with it." In his wildly popular Internet blog, Mason doesn't sugarcoat or equivocate. He tells it like it is—a dose of raw, refreshing, honest truth that is sorely lacking today. The Subtle Art of Not Giving a F**k is his antidote to the coddling, let's-all-feel-good mindset that has infected American society and spoiled a generation, rewarding them with gold medals just for showing up.
Manson makes the argument, backed both by academic research and well-timed poop jokes, that improving our lives hinges not on our ability to turn lemons into lemonade, but on learning to stomach lemons better. Human beings are flawed and limited—"not everybody can be extraordinary, there are winners and losers in society, and some of it is not fair or your fault." Manson advises us to get to know our limitations and accept them. Once we embrace our fears, faults, and uncertainties, once we stop running and avoiding and start confronting painful truths, we can begin to find the courage, perseverance, honesty, responsibility, curiosity, and forgiveness we seek.
There are only so many things we can give a f**k about so we need to figure out which ones really matter, Manson makes clear. While money is nice, caring about what you do with your life is better, because true wealth is about experience. A much-needed grab-you-by-the-shoulders-and-look-you-in-the-eye moment of real-talk, filled with entertaining stories and profane, ruthless humor, The Subtle Art of Not Giving a F**k is a refreshing slap for a generation to help them lead contented, grounded lives.
I have seen copies of this book in nearly every bookstore since its release. It also received good reviews despite its radical title and content. My curiosity won when I bought myself a copy a few months ago and read it. Safe to say, this book is unlike any other self-help book I've come across (not that I've come across a lot, but we can overlook that tiny detail).
To start off, a lot of Mark Manson's content generally has the same theme: stop caring so much. Many chapters focus on mankind's tendency to overanalyze and strictly follow a life plan created by every individual. This book tells you that it's okay if things don't go according to plan, it's okay not to even have a plan, and it's okay if you fall short one too many times. Because that's what life is about! You learn best from your mistakes.
However, I'd like to point out the subtle praise of mediocrity in this book, which may come across as praising the Bare Minimum™ everyone is so obsessed with today. If anything, the ambivalent stance Manson has on the bare minimum and settling for being mediocre is my only issue with this book.
Other than that, I loved this book. It allows us to experience the flaneur-like lifestyle, appreciating the mundane things in life. This book tells us that we don't need to always be in tip-top shape to succeed–sometimes it takes being at rock bottom to inspire us enough to rise above it. Below is an accurate visual of me when I finished this book
I would be exaggerating if I said that this book changed my life, but it definitely changed the way I see life and how I would go about with my lifestyle, world views, and mindsets. If you haven't read this, I advice that you pick it up and give it a read! 4.5 stars.