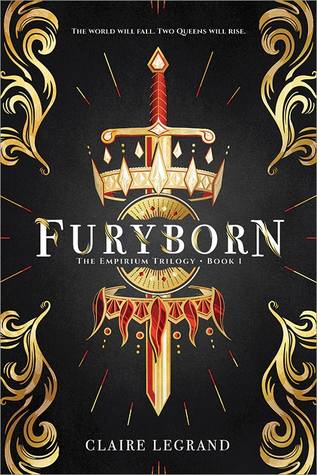 Furyborn. Claire Legrand. Young Adult/Fantasy. 2018. 512 pages. 4.5 stars.
We all have darkness inside us, Rielle," he said, his voice rough. "That is what it means to be human."
I received an advanced copy of this book in exchange for an honest review.
Follows two fiercely independent young women, centuries apart, who hold the power to save their world…or doom it.
When assassins ambush her best friend, the crown prince, Rielle Dardenne risks everything to save him, exposing her ability to perform all seven kinds of elemental magic. The only people who should possess this extraordinary power are a pair of prophesied queens: a queen of light and salvation and a queen of blood and destruction. To prove she is the Sun Queen, Rielle must endure seven trials to test her magic. If she fails, she will be executed…unless the trials kill her first.
A thousand years later, the legend of Queen Rielle is a mere fairy tale to bounty hunter Eliana Ferracora. When the Undying Empire conquered her kingdom, she embraced violence to keep her family alive. Now, she believes herself untouchable–until her mother vanishes without a trace, along with countless other women in their city. To find her, Eliana joins a rebel captain on a dangerous mission and discovers that the evil at the heart of the empire is more terrible than she ever imagined.
As Rielle and Eliana fight in a cosmic war that spans millennia, their stories intersect, and the shocking connections between them ultimately determine the fate of their world–and of each other.
I was so excited when I found out that I received an ARC of Furyborn, and I'm so happy to say that I enjoyed it so much!! Furyborn was reminded me of Empress of a Thousand Lanterns, but waaaay better.
It's told in alternating points of view, and I enjoyed each POV equally. It's pretty rare that I don't favor a certain point of view. It's just written so well that each chapter ending made me want more! Furyborn's strength is definitely in its writing, and it's really obvious that the author put a lot of thought into the plot line. It's just so intricate and well woven.
My only qualm about this book is that I wish we'd gotten to know the side characters some more! I feel like it was too focused on the two main characters. I understand that it's the first book in a series, so I guess there will be more characterization in the sequels, but it just leaves me so curious and wanting more.
I'm so excited for the sequels. This is such a solid start to a brilliant and new series.
4.5 stars.
Happy reading, everyone!