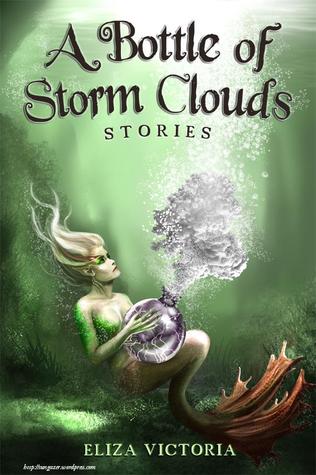 A Bottle of Storm Clouds. Eliza Victoria. Fantasy/Anthology. 2012. 209 pages. 5 stars.
People lose things every day. Most just give up looking and forget.
Award-winning author Eliza Victoria mixes magic with the mundane in this special concoction of 16 short stories. A girl meets a young man with the legs of a chicken. A boy is employed by a goddess running a pawnshop. A group of teenagers are trapped in an enchanted forest for 900 days. A man finds himself in an MRT station beyond Taft, a station that was not supposed to exist. A student claims to have seen the last few digits of pi. Someone's sister gets abducted by mermaids.
Includes stories that have appeared in the critically acclaimed anthologies Philippine Speculative Fiction and Alternative Alamat, and stories that have won prizes in the Philippines Free Press Literary Awards and the Amelia Lapeña-Bonifacio Literary Contest.
I found this when I was asked in one of my classes to pick a book written by a Filipino. As someone who is a big fan of the fantasy genre, I was really excited to get my hands on this for many reasons. For one, I was thrilled to find out that there are contemporary Filipino writers that specialize under the fantasy genre. A Bottle of Storm Clouds is a wonderful collection of short stories that really blow your mind away. Its writing, world building, and plots are all well-crafted and keep you on the edge of your seat.
Out of the 16 stories, I especially fell in love with 5 stories:
"Ana's Little Pawnshop on Makiling St."
"Monsters"
"Siren Song"
"Sugar Pi"
"Reunion"
Majority of these stories have folklore element in them, which is great because I love our local mythology! The characters are dynamic, relatable, interesting, and most of the time mysterious. They draw in the reader and make them want to know more, and sometimes we forget that we are merely reading short stories because the ending leaves you craving for more of Victoria's splendid work.
The short stories feature the everyday life in the Philippines but she writes them in such a way that is enchanting! It makes the life of an ordinary Filipino fun and without a dull moment. One train ride can lead you to a portal into a completely different world, a math equation turns into a fruitful beginning, a story written at night can come to life and live in your very being.
I highly praise Eliza Victoria for writing a wonderful masterpiece. 5 stars!