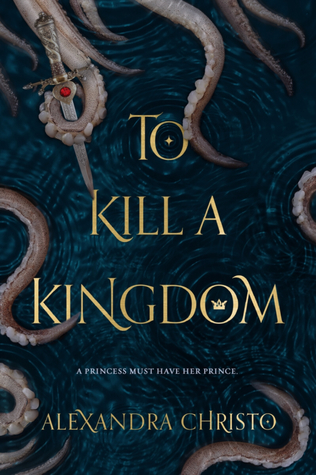 To Kill A Kingdom. Alexandra Christo. Young adult/Fantasy. 2018. 342 pages. 3 stars.
That's the thing about risks. It's impossible to know which ones are worth it until it's too late
I received an Advanced Readers Copy in exchange for an honest review
Princess Lira is siren royalty and the most lethal of them all. With the hearts of seventeen princes in her collection, she is revered across the sea. Until a twist of fate forces her to kill one of her own. To punish her daughter, the Sea Queen transforms Lira into the one thing they loathe most—a human. Robbed of her song, Lira has until the winter solstice to deliver Prince Elian's heart to the Sea Queen or remain a human forever.
The ocean is the only place Prince Elian calls home, even though he is heir to the most powerful kingdom in the world. Hunting sirens is more than an unsavory hobby—it's his calling. When he rescues a drowning woman in the ocean, she's more than what she appears. She promises to help him find the key to destroying all of sirenkind for good—But can he trust her? And just how many deals will Elian have to barter to eliminate mankind's greatest enemy?
"If you're no careful, the only thing you'll find is danger."
"Maybe that's exactly what I'm looking for."
I read this book weeks ago but only got around to writing a review now mainly because I don't know how I feel about it. Objectively, this book was great! The premise is amazing: what happens if Ursula was Ariel's mother? The drastic twist of the dynamics of the story was unexpectedly new and exciting. However, there seems to be a certain level of disconnection between me and the book because as much as I want to love it, I didn't.
Firstly, the advanced copy I received did not mark the switching of perspectives. This story is told in an alternating fashion between Lira and Elian, but I was never informed until I was thoroughly confused as to whose POV I was reading from. Hopefully in the final copy, these were marked appropriately!
Secondly, I didn't really connect with the romance of the story as much as I thought I would. Really, I think this is a case of "it's not you, it's me" because there were no problems with the book except that I neither loved it nor hated it.
This book is more of an "it's okay" kind of story for me! My expectations preceded my reading experience and when the plot deviated from where I wanted the story to go, I was turned off and left somewhat unsatisfied with how it turned out. For that, I'm giving this book 3 stars!