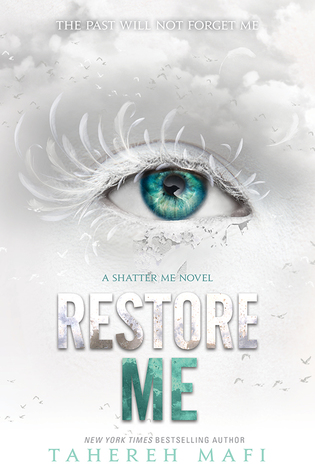 Restore Me. Tahereh Mafi. Young adult/Dystopian. 2018. 448 pages. 5 stars.
They're coming to collect their pound of flesh, and I fear that this time–as I have every time–I will end up paying with my heart.
Juliette Ferrars thought she'd won. She took over Sector 45, was named the new Supreme Commander, and now has Warner by her side. But she's still the girl with the ability to kill with a single touch—and now she's got the whole world in the palm of her hand. When tragedy hits, who will she become? Will she be able to control the power she wields and use it for good?
"How can she be truly happy when she's never dealt with her past? She's never addressed it—merely set it aside. She's never had the time, or the tools, to examine it. And that anger—that kind of rage," Castle says, shaking his head, "does not simply disappear. She is volatile and unpredictable. And heed my words, son: Her anger will make an appearance again."
I'm just going to get straight to the point, this book was worth the wait. Holy moly wow. Readers have waited years for this book, and I am so happy to say that this did not disappoint at all.
Restore Me builds up with a slow burn and while the first half was a bit drawn out and somewhat chaotically dull (if that can even be a thing), it greatly delivers in the end with the most mind blowing revelations ever. Safe to say that my book slump is officially over because I am riding such a high after this one.
The characterization of everyone is still consistent and spot on compared to the previous books. The humor courtesy of Kenji is still spot on. It does not get cringey, it is actually akin to the kind of humor we have today and Mafi's skill to keep up with the times despite the last book being published years ago justifies her talent as a writer! It's also strangely weird to have Warner's perspective because during the first three books we've been so accustomed to seeing this universe through Juliette's naive and inexperienced eyes. It's refreshing to view it from someone who is partially responsible as to why the universe is this way.
For those wondering, yes it does relieve some of the mystery of Warner because we are now directly reading his thoughts. It does not get dull because the revelation of Warner's feelings also means the secrecy of other things that only get revealed in the end and it was really worth it.
I love the projection of the story despite its messy nature–I can't blame its messiness because it is set in a dystopian society where everything is falling apart. Restore Me also gets dark as hell. Like, really dark. Think The Young Elites kind of dark. It can get scary. Personally, I got spooked psychologically by what I was reading because of what was happening.
I was surprised at how fast I was able to read through this and how the pace picked up so fast after a certain point. This is the kind of book that reminds me why I love reading; it is what fuels my passion to be a reader.
The hype is real. I was blown away. It was worth the wait. 5 stars.