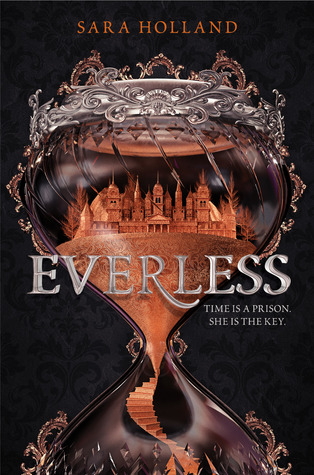 Everless. Sara Holland. Young adult/Fantasy. 2018. 368 pages. 3.5 stars.
What if the Queen is not the one to be feared at all?
What if the person to be feared is me?
In the kingdom of Sempera, time is currency—extracted from blood, bound to iron, and consumed to add time to one's own lifespan. The rich aristocracy, like the Gerlings, tax the poor to the hilt, extending their own lives by centuries.
No one resents the Gerlings more than Jules Ember. A decade ago, she and her father were servants at Everless, the Gerlings' palatial estate, until a fateful accident forced them to flee in the dead of night. When Jules discovers that her father is dying, she knows that she must return to Everless to earn more time for him before she loses him forever.
But going back to Everless brings more danger—and temptation—than Jules could have ever imagined. Soon she's caught in a tangle of violent secrets and finds her heart torn between two people she thought she'd never see again. Her decisions have the power to change her fate—and the fate of time itself.
What do I have to lose, if I've already lost everything?
I'm really lost on how to rate this. On the on hand, I liked the concept of the story and got hooked on certain parts and characters. On the other hand, the execution could have been better with less filler chapters and a clearer world building. I'll try to organize my thoughts as best I can so it doesn't get confusing.
From my understanding, time is the currency which is extracted from a person's blood. The person's blood is then turned into an iron coin; these coins are labeled accordingly according to their respective time such as a year-coin or a month-coin. The story revolves around June Embers who goes back to Everless to earn time and save her father's life. However, she finds herself working directly for the future wife of her childhood love and the Queen herself. There's also some awry backstory between the one of the princes and her father that makes her fear said prince.
My biggest issue with Everless was that there was too much dead time. It was stated that very early in the book that Jules wanted to infiltrate the vault and get to know the Queen to find some answers. Yet we read chapters surrounding the princes, a childhood friend, the handmaiden, and other people who are, by the way, definitely not the Queen? I feel like these things only happened because something /had/ to happen. I kept reading with barely any progress that I started to question why I was even reading. Thankfully, the plot became interesting enough at the right moment to keep me.
As for the characters, they were really plain and dull. Roan's role as the potential love interest was boring. He didn't do anything aside from show up to make Jules giddy and flushed. Sometimes he would touch her hand and subtly suggest that he has a thing for her /despite having a fiancé and that she works for said fiancé/. His lines were borderline cheesy and predictable. If these lines were said out loud, I think I would vomit.
"I am delighted to have run into you, Jules." He leans close, brings his mouth nearly to my ear. "More than you know."
As for Ina, she came off as unrealistic and fake. Let's be real: no royal is ever that nice naturally. It reeks inauthenticity and ulterior motives that I couldn't bring myself to like her. Liam reminded me a lot of Magnus from Falling Kingdoms so I'm anticipating a lot from him in the upcoming books! He was the brooding type, always with a scowl on his face and feared by everyone. He was actually the saving grace of this book for me because I love problematic boys in books (see: Warner, Rhysand, the Darkling, Kaz, Cardan, et al)
Another saving grace of this book was the last few chapters; they were as interesting as the filler chapters were boring. I admit to skimming a lot of the middle portions because of the said lack of events, but the last 15-20% of Everless came at full speed with no intention to top. It was filled with action and information that's key to the entire series and I gobbled it up.
At the end of it, skimming and all, I'm still interested in the series. I am expecting better execution in the second book compared to this one because a lot of reviewers seem to have the same sentiments. To be safe, I'll rate this at 3.5 stars. Not that bad but could've been better, too.