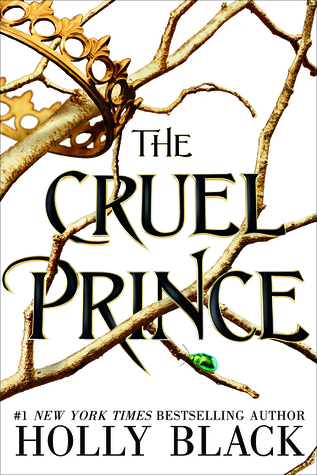 The Cruel Prince. Holly Black. Young adult/Fantasy. 2018. 384 pages. 5 stars.
I do not year to be their equal.
In my heart, I yearn to best them.
Of course I want to be like them. They're beautiful as blades forged in some divine fire. They will live forever.
And Cardan is even more beautiful than the rest. I hate him more than all the others. I hate him so much that sometimes when I look at him, I can hardly breathe.
Jude was seven years old when her parents were murdered and she and her two sisters were stolen away to live in the treacherous High Court of Faerie. Ten years later, Jude wants nothing more than to belong there, despite her mortality. But many of the fey despise humans. Especially Prince Cardan, the youngest and wickedest son of the High King.
To win a place at the Court, she must defy him–and face the consequences.
In doing so, she becomes embroiled in palace intrigues and deceptions, discovering her own capacity for bloodshed. But as civil war threatens to drown the Courts of Faerie in violence, Jude will need to risk her life in a dangerous alliance to save her sisters, and Faerie itself.
"No one needs to know that my hopes were dashed. No one needs to know I ever had any hope at all."
My first 5-star rated read for 2018! I'm so happy about this because I've been anticipating The Cruel Prince for a few months and finally reading it was nothing short of fantastic. Fae books are the current trend (see: ACOTAR, An Enchantment of Ravens, TOG, etc.) and Holly Black is well-versed in this genre.
The story revolves around human twins taken under the care of the Fae world's general. Growing up surrounded by Fae, it's no surprise they want to be like them. However, the Fae don't look highly upon them. Jude and Taryn find themselves mistreated, bullied, and even attempted on as they try their best to be accepted.
I loved the projection of the story! It started with the right amount of backstory and the world building was well-integrated into the narrative of Jude's life so it wasn't too much information to take in but at the same time intriguing enough to keep me hooked.
The Cruel Prince also breaks common tropes such as the mean older half-sister. Here, the older half-sister is the nicest being I've ever met. Vivi is real, purposeful, and apologetic, yet she knows her duty as an older sister to Taryn and Jude. She protects them fiercely yet wants a life of her own outside of the Fae world despite being one of them. We root for Vivi (and not a certain traitorous lying bitch cough cough cough cough).
It does, however, play into common hate-to-love and the-antagonist-isn't-really-the-antagonist tropes. If you've loved series like these such as Falling Kingdoms and Shatter Me, I have a good feeling you'll love this! The first book tends to have a chaotic plot because it's setting up for its sequel. I was a bit put off by the second half because of that chaotic nature, but it was pulled off quite nicely!
The only issue I had with this book was the excess of rhetorical questions by the main character. A few would have been okay, but there were a lot of them in each chapter that I felt irked and somewhat annoyed. I also would have liked more background on Nicasia and Valerian. I understand that they are minor characters, but they were too stagnant and flat even though their roles were nothing more than catalysts.
Overall, I loved this and am giving it 5 stars! That ending was devastating and made me yearn for more. I can't believe I have to wait a year to read more of Jude and Cardan's story.
Have you read The Cruel Prince? Let us know your thoughts in the comments!