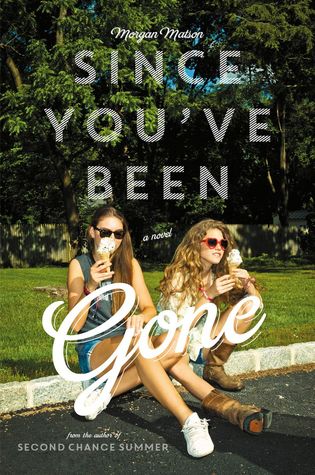 Since You've Been Gone. Morgan Matson. Young Adult/Contemporary. 449 pages. 2014. 4 stars. [Source: Given]
"How was I supposed to keep living in this town when everything I saw reminded me of someone I'd lost?"
It was Sloane who yanked Emily out of her shell and made life 100% interesting. But right before what should have been the most epic summer, Sloane just…disappears. All she leaves behind is a to-do list.
On it, thirteen Sloane-inspired tasks that Emily would normally never try. But what if they could bring her best friend back?
Apple picking at night? Okay, easy enough.
Dance until dawn? Sure. Why not?
Kiss a stranger? Um…
Emily now has this unexpected summer, and the help of Frank Porter (totally unexpected), to check things off Sloane's list. Who knows what she'll find?
Go skinny-dipping? Wait…what?
Did the title make you think of that Kelly Clarkson song? Because same.
Kyra gave this to me for my birthday a few months ago and she said "I bought this for you because look!! The cover has two best friends in it!!!" and it was such a heartwarming gift that I've received that I read it within a week.
When Emily's best friend, Sloane, disappears and leaves nothing but a list for Emily to accomplish, things get pretty interesting. Will Emily find Sloane at the end of the list?
Evidently, the list itself is interesting. Penelope? Hug a Jamie? Your curiosity gets the best of you and you'd have this itch to just read and read and read.
One of the things I liked about this book is that it featured playlists for whenever Emily and Frank went on runs. It was a quirk that made this novel special (and also, it featured one of my favorite bands Parachute!!!! Total plus points for that).
For a feel-good read, there were issues tackled in the book that were pretty heavy and required a lot of pondering over. I only realized recently that this is a good coming-of-age story as well!
A book about friendship, overcoming fears, getting out of your comfort zone, and taking chances. Everyone should pick this up and read if you want to feel warm and giddy.
Thanks again, Ky, for giving me this book!! Love you to the moon and back.
BONUS:
Quotes I liked from the book
"4. Date someone who'll wait to make sure you get inside before driving away."
― Morgan Matson, Since You've Been Gone

"And I was realizing that it was pretty terrible to be sitting in silence with someone who you always used to have something to say to"
― Morgan Matson, Since You've Been Gone

"All the stuff you can't wait to get away from, until it's not there anymore, and then you miss it like crazy."
― Morgan Matson, Since You've Been Gone

"I don't think you have to do something so big to be brave. And it's the little things that are harder anyway."
― Morgan Matson, Since You've Been Gone