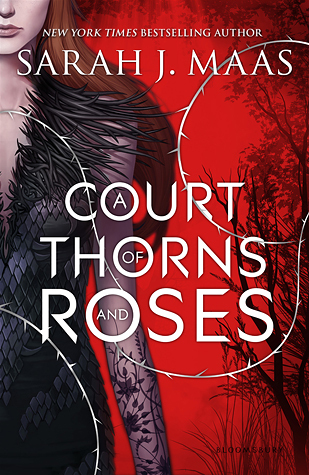 A Court of Thorns and Roses. Sarah J. Maas. Fantasy/Retelling. 416 pages. 2015. 5 stars. [Source: Bought]
"I love you,' he whispered, and kissed my brow. 'Thorns and all."
A thrilling, seductive new series from New York Times bestselling author Sarah J. Maas, blending Beauty and the Beast with faerie lore.
When nineteen-year-old huntress Feyre kills a wolf in the woods, a beast-like creature arrives to demand retribution for it. Dragged to a treacherous magical land she only knows about from legends, Feyre discovers that her captor is not an animal, but Tamlin—one of the lethal, immortal faeries who once ruled their world.
As she dwells on his estate, her feelings for Tamlin transform from icy hostility into a fiery passion that burns through every lie and warning she's been told about the beautiful, dangerous world of the Fae. But an ancient, wicked shadow grows over the faerie lands, and Feyre must find a way to stop it… or doom Tamlin—and his world—forever.
Perfect for fans of Kristin Cashore and George R. R. Martin, this first book in a sexy and action-packed new series is impossible to put down!
I read this a few months ago and up to now I squeal whenever someone mentions this book. Personally, retellings have become one of my favorite genres next to monarchial fantasy.
A Court of Thorns and Roses starts very lightly and is full of almost nothing but fluff and cute banter between Feyre and Tamlin until the 300th page.
And then all hell breaks loose.
This book is full of many secrets that will be unveiled as the story goes and each secret is more intense than the last! I finished reading this book within a day and I fell madly in love with the writing style of Sarah J. Maas and the plot itself. It's a really nice retelling of Beauty and the Beast with its own unbelievable twist that makes this book a really good read! I don't think a book has ever taught me a lesson that has stuck with me as much as this one did.
Hopefully the next book will be released soon (so many sequels, so little time) so I can snag myself a copy and see where this goes.
ACOTAR has been added to my 10/10 book list and is in our Recommendations Page!