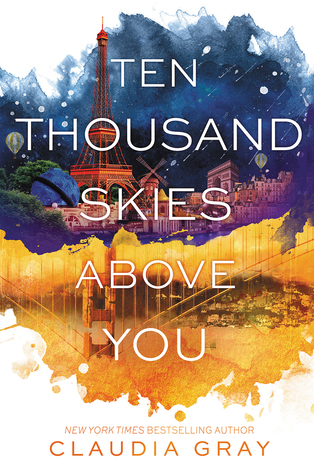 Ten Thousand Skies Above You. Claudia Gray. Young Adult/Science Fantasy. 426 pages. 2015. 5 stars. [Source: Bought]
"You really believe that? That you're in love with every Paul, everywhere?"
"I don't believe," I said. "I know."
Ever since she used the Firebird, her parents' invention, to cross into alternate dimensions, Marguerite has caught the attention of enemies who will do anything to force her into helping them dominate the multiverse—even hurting the people she loves. She resists until her boyfriend, Paul, is attacked and his consciousness scattered across multiple dimensions.
Marguerite has no choice but to search for each splinter of Paul's soul. The hunt sends her racing through a war-torn San Francisco, the criminal underworld of New York City, and a glittering Paris where another Marguerite hides a shocking secret. Each world brings Marguerite one step closer to rescuing Paul. But with each trial she faces, she begins to question the destiny she thought they shared.
The second book in the Firebird trilogy, Ten Thousand Skies Above You features Claudia Gray's lush, romantic language and smart, exciting action, and will have readers clamoring for the next book.
First and foremost, LOOK AT THAT COVER. This has got to be, hands down, the most beautiful cover I have ever seen. I know they say not to judge a book by its cover, but damn, I would've given this book 5 stars just by looking at that wonderful cover. The content gave this cover justice.
I have been waiting so long for this book that I've been stopping at the bookstore daily for the past week to check if they have copies available. Luckily enough, they had a few copies available yesterday–a day before the intended release date for the U.S.–and immediately purchased one! With college requirements and life itself becoming a burden, reading this made me remember what it felt like to get lost in the fictional world and feel nothing but happiness and anticipating excitement, no matter how brief it may be. (In my case, it happened to be 12 hours.)
Ten Thousand Skies Above You takes place just 3 months after A Thousand Pieces of You and Marguerite fills the gaps pretty quickly within the first few chapters of the book and I've got to admit that Claudia Gray's writing in Marguerite's perspective has made the entire series a lot easier to understand due to her quirkiness and less scientific terms, even if the entire plot revolves around the world of science.
You can expect a lot of reminiscing from Ten Thousand Skies Above You since many references are made that occurred back in A Thousand Pieces of You that really really really make you feel so sentimental and nostalgic for the first Firebird book. From the futuristic Londonverse all the way for the royal Russiaverse, Ten Thousand Skies Above You will make you feel like you've never departed from A Thousand Pieces of You that was published a little more than a year ago (you can read our joint review of that here).
In terms of plot, this is much harder to absorb than the previous book. I've got to say, even if Marguerite's narration was relatively easy to flow with, some scientific terms left me lost (but don't worry, Marguerite seems to be just as confused as I was). The jumps between dimensions happen more frequently here than it did in A Thousand Pieces of You, so it takes time to absorb and compartmentalize one version of one character from another. I honestly have no idea how I was able to finish it within 20 hours, but I guess that's what beautiful writing and excellent plotting combined do.
I really enjoyed reading this book! This was the novel that got me back on the reading saddle after being in a horrible reading slump for the past few months due to university requirements and other responsibilities alike. I'm giving this book 5 stars and I'm pretty sure you know why. This deserves a special place in our Recommendations and in my 10/10 book list. Definitely can't wait for Firebird #3!
Day 1 of my mourning period starts from here on out.
"It doesn't matter where I go. I'll still be yours."